Supply chain management is the organized activity of supplying products and services to customers. It consists of various functions such as demand planning, supply planning, sales, and operation planning. According to the recent Polaris market research, SCM is supposed to reach $58.89 billion by 2030. This colossal figure denotes the scope of SCM in technological innovations and business research.
What is supply chain management?
The supply chain is usually a link between two or more businesses or companies with the common intention of delivering value to the customers through material flow. Material flow is the raw input converted into the intended output. Consider the movements of the flow where the upward motion is of the supplier, and the downward motion belongs to the customer. This flow is balanced by maybe an OEM (original equipment manufacturer). The flow has to pass through distributors and retailers before reaching consumers. Ultimately, a supply chain's ability to serve its consumers determines its competitive advantage.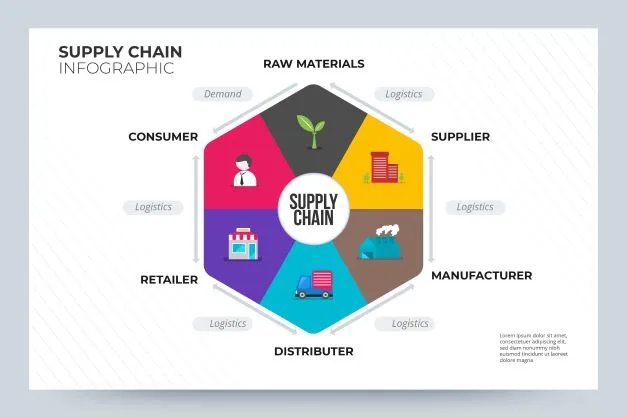 Supply chain management is simply the business process that manages supply chain activities. It revolves around three points: relationships, configurations, and coordination.
Refer to our article, 10 types of common business forms in the world to know about business classes.
Relationships
SCM relationship is about inter-firm relationships. However, the OEM, its first-tier suppliers, and first-tier customers are often the focal points of this relationship. Communication between companies specifies the class and extent of the association. Unless the parties exchange the volume and price of the dealing, the relationship is likely to be regarded at arm's length. However, if they share their vision, investment plan, NPI process, and detailed financial information, the connection would be considered close cooperation. Choosing supply chain relationships is both a strategic and an operational decision.
Configurations
A Configuration is basically how companies are organized in an SCM. This architecture includes:
Size of the supply base
The extent of vertical integration
Amount of outsourcing
Structuring of downstream distribution channel
Coordination
In this process, continuous material flows are coordinated from suppliers to buyers and ultimately to the end consumer. The coordination could be facilitated by inventory management throughout the supply chain. Activities will include capacity planning, forecasting, manufacturing scheduling, and even customer service.
How to efficiently design a supply chain?
Supply chain configuration
As previously discussed, the configuration defines the linkage between companies that work collaboratively to provide value to the end users. Configuration can be set according to the industries, market, product lifecycles, etc. Hence companies can choose which configuration best suits them. You can consider how all MNCs, corporations, or conglomerates operate in multiple countries without any intervention in SCM. All companies can better understand their respective market, product ranges, and all other factors due to operational independence given by parent companies. This can, of course, differs from company to company.
Another vital part is the stable network formed by OEMs through tiered distributors and suppliers. When it associates with short-term suppliers and distributors, it achieves operational flexibility and agility, also known as a dynamic network. The following table will make you acquainted with the difference between them.


Vertical integration
Vertical integration means having a single owner who owns all of its respective activities. Often, vertical integration is not a vital component of well-integrated supply chains. OEMs that don't own their suppliers and customers are considered to have limited vertical integration. In contrast, a company with multiple tiers of suppliers and customers is considered to have a large degree of vertical integration.
Consider the automobile giant Ford. Ford owned and took over a few manufacturing suppliers for making the T Model instead of dealing with independent ones. Ford was the sole owner and maker of that model. This one is the classic case of vertical integration. The intention of Ford was likely to have control, get massive profits, and market supremacy. This was a win-win situation for Ford since the market was suitable and thus quickly skyrocketed its sales. It has its downsides as well. The company was rigid in its approach to building assets, modifying and introducing products, and responding to customer demand changes.
Supply chains' degree of vertical integration has always had a profound impact on their development. The design of a company's supply chain configuration will greatly determine its strategy, operations, and performance. It should be noted, however, that supply chain architecture designs vary greatly depending on the industry, product lifecycle, and competitive environment. Process-based industries prefer vertical integration, while technology industries are less vertically integrated.
Outsourcing
Companies often decide to get some services like design, marketing, or advertising from external agencies, known as outsourcing. It is buying the services at reduced cost instead of making them at higher expenses. It also covers negotiations, finding potential agencies, reviews, and follow-ups of the operation. Outsourcing has many benefits including:
Business flexibility
Improved response of supply chain
Development of core competencies
Competitive edge
Offshoring is the practice of moving on-shore operations offshore to take advantage of local resources, reduce operating costs, or establish a market presence. Offshoring, however, does not necessarily mean outsourcing, particularly when the company's ownership remains the same. Typically, business outsourcing is done in three ways:
Function: Logistics, IT, and Financial services
Process: Marketing, Engineering, R&D, HR, etc.
Manpower: Contract laborers, consultants, etc.
Outsourcing requires a thorough understanding of surrounding factors. Below steps are recommended:
Know competitive conditions
Define goals and strategies
Study the requirements
Recognize internal resources and competencies
Know your suppliers
Analysis and review
Location
If you want to better serve your customers and reduce operational costs, strategically decide on locations. Location will highly influence material expenses, taxes, currency exposures, and other legal regulations. Ultimately, this will lead to changes in performance, business outcomes, and atmospheric effects.
Supply chain as a whole consists of physical and market expenses.
Physical: Production, logistics, material, manpower, taxes, electricity costs, etc.
Market: It is associated with delivering the right products, at the right time, to the right customers. If the supply chain fails to do so, it will incur losses.
As a result, the location decision for the supply chain will have a profound impact on both components of the supply chain cost, thereby making it crucial for supply chain planning and design. Making a decision, however, can be hard due to the complexity of many factors involved in making it, or saying why one decision is better than the other. To make it easier, refer to the below chart: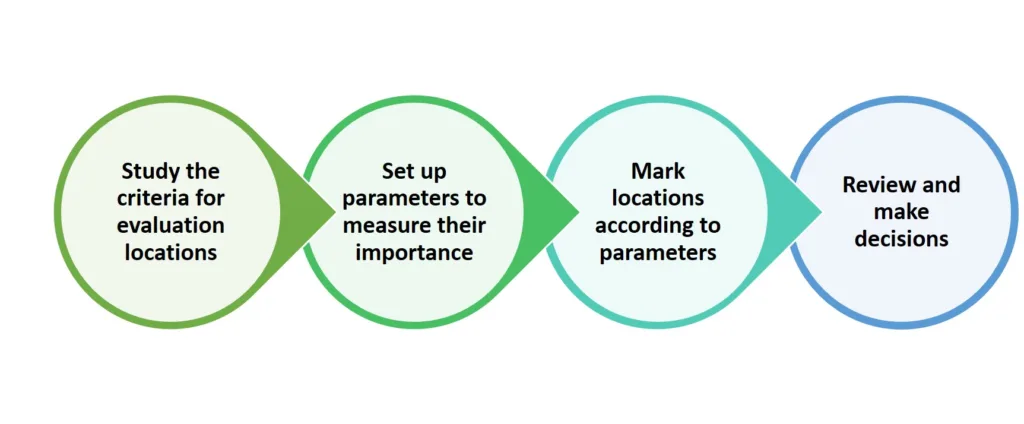 Planning capacity
Planning the capacity of the supply chain is quite a big scenario. When facing issues like a capacity bottleneck, one must identify and be open about it. All links of the supply chain should be verified as they can affect the whole operation. Whenever we try to increase the capacity, subsequent capacities will become bottlenecks. Many management factors comprising lead time, technology, quality, inventory, etc., affect capacity planning. Consider the three levels to deal with capacity planning concerns:
Understand the internal capacity planning
The company's capacity planning goals will be attained by synchronizing its inner capacity. Every member is ultimately responsible for managing and executing the expected capacity for the supply chain. To avoid bottlenecks or overcapacity throughout, all functional silos must correspond with one another. Making use of safety stocks, operating smaller batch sizes, and arranging material flow is also crucial.
Know about the external synchronization and coordination with other individuals
A supply chain's optimal capacity is determined by its external synchronization. The goal is to remove waste incurred by repetitious capacities and to stop possible threats of supply shortages caused by bottlenecks. In reality, however, it is not that easy to organize capacity across the entire supply chain. The first step to achieving true synchronized capacity is aligning the organizations' processes and incorporating their operations. Second, the participating company may have to restructure its assets and even sponsor in capital to gain synchronized supply chain capacity; such investments and asset re-deployment are unlikely to occur quickly without a committed long-term close partnership. Lastly, capacity planning can only be achieved with mature, culturally ingrained, and technically compatible operating systems.
Establish control over the supply chain's capacity with changing market demands
Market demand changes often are unknown or uncertain, which makes the supply chain's capacity difficult to synchronize. Supply chain capacity has been forecasted for many years but with limited success. Analysis forecasting methods have failed to live up to their promise. Therefore, supply chain managers need to up their game when it comes to synchronizing capacity and ultimately becoming more responsive. Supply chain responsiveness has improved significantly over the past two decades. Outsourcing, vertical disintegration, virtual networks, sharing, and pooling resources are a few ways supply chains are developing their flexible capacity and structure today.
If you are interested to know about strategies like pull demand, flow creation, matching supply with demands, etc., refer to the 4 best strategies to implement lean manufacturing.